Class of 2006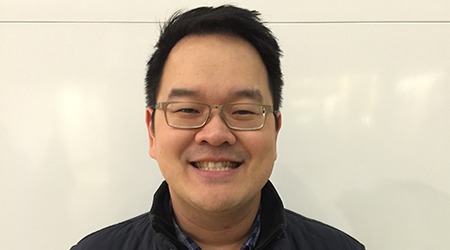 Why did you decide to pursue a career in genetic counselling?
I knew early on I wanted to pursue a career in healthcare and I knew my strength was in communication and taking complex topics and finding different ways to teach them. As a genetic counsellor, this is a skill that I use every day at work. It was clear to me that by training to be a genetic counsellor I would have a chance to truly help my patients make sense of things when they are in a moment where nothing seems to make sense.
I had a four-year window after completing my undergraduate degree before I applied to the UBC Genetic Counselling Program. During that time I had a chance to work at a lab and I remember a moment of clarity during the interview process. My manager at the time asked if I was sure I wanted to work in the lab. She said she was sure I would do a good job, but wasn't sure that my personality was one where I would thrive in the day-to-day of lab work. I didn't really think about it much at the time, but it planted a seed about finding a career that was both a good fit for me and that I was a good fit for.
How did you hear about genetic counselling?
I looked at a lot of different paths and realized some options were a much better fit for my strengths and personality. I was fortunate to complete my undergraduate degree at UBC, because there was already a well-respected UBC Genetic Counselling Program. One of my professors was part of the medical genetics community and was a great advocate for the program.
What attracted you to UBC's two-year Genetic Counselling Program?
It was important for me to know that the program was both Canadian Association of Genetic Counselling (CAGC) and American Board of Genetic Counseling (ABGC) certified. This opened up doors for me to pursue jobs both in Canada and the United States (being eligible to sit for both certification exams).
In addition, the UBC Genetic Counselling Program has a faculty that is world-renowned, with key leaders in the field of genetics. I was also born and raised in Vancouver and knowing that I would receive world-class training and education and live in one of the best places to live was a perfect opportunity.
How did you prepare for the application process and interviews?
I knew the application process was competitive – with only 6 applicants accepted each year. I think the most important thing in preparing is realizing that academic success is only one part of the evaluation. I realize "fit" is vague, but it is such a crucial component to loving what you do and doing it well.
To evaluate my "fit", I spent time shadowing genetic counsellors, volunteering at a crisis center and hospice care. Other opportunities might also include getting involved with patient support groups and getting a better understanding of genetic counselling as a whole. I would highly encourage this step to everyone considering applying for the program.
What's one piece of advice you would offer to prospective applicants interested in joining UBC's program?
One question that may be helpful for prospective applications is knowing what the strengths of each training program are. This may have been more relevant 10 years earlier, but certain programs may have more of a clinical focus while others may offer more opportunities to participate in research. Knowing the difference may help you narrow down which program will help best meet your goals.
Looking back, what was the biggest highlight from your time in the program?
The whole program was fantastic. I truly enjoyed the close friendships that develop going through the course work and clinical training with the rest of my class. The program is undoubtedly hard work, but made that much easier being able to share the experience going through it with others.
What are you doing now?
I am now a regional medical specialist for a diagnostic genetics laboratory. I've transitioned out of direct patient care and work instead with health care providers in an educational role. I use all the same skills that I developed as a genetic counsellor and teach / train and educate health care providers on the clinical importance of family histories and how a diagnosis of certain genetic conditions has significant implications on patient management.
I spent seven years prior to this in clinical practice and worked in both prenatal and pediatric clinics. Now I focus primarily in hereditary cancer.
How did UBC's Genetic Counselling Program prepare you for your current role?
I would say that in every role I took on after graduating, I had a learning curve and necessary on-the-job training. However, the program was great at developing all the skills I would need to succeed in these different roles. I received in-depth clinical and psychosocial training, and learned how to establish boundaries (both personally and professionally).