Class of 2016
Hometown: Hamilton, Ontario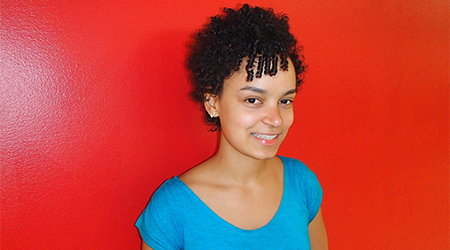 Why did you decide to pursue a career in genetic counselling?
I decided to pursue a career in genetic counselling so that I could support families and individuals who have been affected by a genetic condition. I wanted a career where I could work directly with patients and address patient's health on both a biological and a psychosocial level. I was excited by a career where you get to play so many different roles. Genetic counsellors not only work providing direct patient care, but also in labs, research, public policy, education, and other settings. I was intrigued by the prospect of working in a dynamic and developing field that requires constant new learning.
How did you hear about genetic counselling?
I first heard about genetic counselling when I was in a co-op program at the University of Waterloo. I saw a co-op job posting for a genetic counselling assistant. The job posting prompted me to look into genetic counselling as a profession.
What attracted you to UBC's two-year Genetic Counselling Program?
The terrific clinical rotation program attracted me to the UBC's Genetic Counselling Program. I really liked the idea of being able to start rotations at the very beginning of first year. Being based out of BC Children's and Women's hospital also was appealing as it is the main genetics clinic for the province.
How did you prepare for the application process and interviews?
I prepared for the application and interviews by talking to as many genetic counselling students and genetic counsellors as possible. Attending genetic counselling program information sessions was helpful for preparing for the application process. Also, I spoke with a career advisor at my university's career service centre, which was useful for getting advice on personal statements and doing mock interviews.
What's one piece of advice you would offer to prospective applicants interested in joining UBC's program?
Get as much exposure to the profession as possible. Although it is not always feasible, shadowing a genetic counsellor can give you great insight into the day-to-day life of a genetic counsellor. If that is not possible, interview genetic counsellors who work in different specialties and sectors.
What did a 'typical day' look like during your second year in the program?
Typically, I would begin my day first thing in the morning in the student office at the hospital reviewing and preparing for scheduled patient appointments. At some point in the day I would meet with my clinical rotation supervisor to discuss cases that we are seeing the following day. If patients were scheduled for the day, I would see patients with my supervisor. The remaining time would be spent back in the student office doing any follow up work from the patient appointments, preparations for future appointments, or class work. Some days end with a seminar class. The exciting thing about the program is that every day is different. I really liked the ever-changing nature of the classes and clinical rotations.
Looking back, what was the biggest highlight from your time in the program?
There were so many highlights, it's hard to decide which is the biggest! One of the highlights of the program was attending the National Society of Genetic Counselors Conference in the first semester of second year. It was wonderful to be surrounded by so many people who are so passionate about the field. The conference was a terrific way to learn from experts and network.
What are you doing now?
I'm working as a clinical genetic counsellor at a cancer centre in Santa Barbara, California.