Class of 2014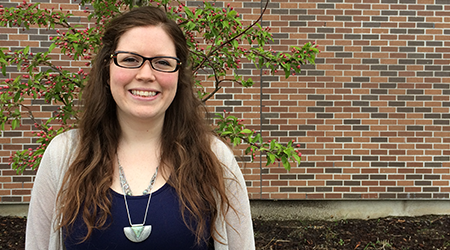 Why did you decide to pursue a career in genetic counselling?
When you are in high school, or university, your friends and family usually have opinions about the types of careers that you would be suited for. The professions that were suggested for me time and time again were: nurse, doctor, teacher, and social worker. I liked aspects of all of these careers, but none of them felt exactly right for me. When I learned about genetic counselling I knew immediately that it was what I had been looking for. I love that it is a field that is constantly changing — there are so many different areas that genetic counsellors can work in, there are countless genetic conditions and genetic technologies to learn about, and every single person you meet has different experiences, perspectives, and emotional reactions.
How did you hear about genetic counselling?
My grade 12 biology teacher mentioned it briefly in one of our classes about genetics — I am still so thankful that it came up that day because otherwise my life may have gone in a totally different direction!
What attracted you to UBC's two-year Genetic Counselling Program?
One of the best parts of the program is that you begin your clinical rotations in the first week of training. I learned a lot more through exposure and observing cases than I would have from only attending lectures for the first semester. I also liked that there were six students in a class and that there was one central location where you would be based out of and doing most rotations. I was also excited about the idea of learning from the many well-respected researchers, doctors, and genetics professionals in the Vancouver area. Finally, I loved Vancouver in general, and the weather was definitely a draw.
How did you prepare for the application process and interviews?
I took as many genetics/biology classes as I could in my undergrad and I did an honours research project. I also volunteered for a crisis line for two years prior to applying.
When I was preparing my application, I thought carefully about who to ask to provide references, and tried to find three references that could all speak to different aspects of my personality and experiences. I lived in a city that did not have a genetic counselling clinic, so I was not able to volunteer in a clinic prior to application. To compensate for this, I spoke to several genetic counsellors over the phone and watched online examples of genetic counselling sessions. In retrospect, I think it would have also been beneficial to read some of the books about the history of genetic counselling and spend at least a few days in a clinic prior to applying — this would have greatly helped with my pedigree drawing skills at the beginning of the program!
What's one piece of advice you would offer to prospective applicants interested in joining UBC's program?
Many of the applicants to genetic counselling programs (and genetic counsellors themselves) have a lot in common with each other and share similar personality traits. This makes sense since we were all drawn towards this particular little-known career, but there is likely something special or unique about you or your background that could help you stand out among the other candidates. Try to relax and let your personality show in the interview. If all else fails, wear nice shoes!
Looking back, what was the biggest highlight from your time in the program?
Absolutely my classmates — they are now some of my best friends. I can't imagine having made it through the program without them, or not having them in my life now. It makes such a difference to have a built-in support system to share your ups and downs with throughout the two years.
What are you doing now?
I have been working as a genetic counsellor in St. John's, Newfoundland, for the last two years. My role has included seeing pediatric/adult genetics patients with a geneticist, as well as my own genetic counselling patients for a variety of indications such as carrier testing, hereditary cancer, cardiac conditions, and late maternal age. I also worked on a research project for 6 months that included arranging whole exome/genome sequencing for children diagnosed with autism.
How did UBC's Genetic Counselling Program prepare you for your current role?
By the time I graduated I felt confident and ready to begin seeing patients on my own. As soon as I figured out the logistical details of working in my clinic I was really able to hit the ground running. As the second year was almost entirely clinical rotations I felt capable of handling a full patient load when I started my job, and also felt that I had learned really valuable skills such as letter writing, time management and organization.