Class of 2007
Hometown: I identify as a 'third culture kid' – I grew up all over the world, and consider many places 'home'.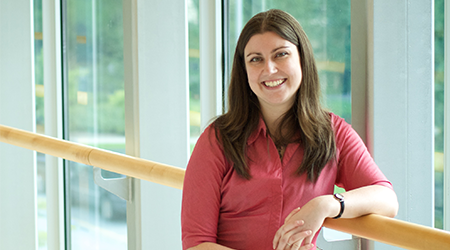 Why did you decide to pursue a career in genetic counselling?
My story is similar to those of many genetic counsellors. When I was in high school, I fell in love with genetics and enjoyed a summer working in a cellular pathology lab studying cancer cells and in my sixth year (living in Scotland at the time – equivalent to Grade 12), I did a small directed studies project with fruit flies. While I did take pleasure in lab work (as it suits my detail-oriented and planning nature), I couldn't see myself working in a lab for my career. In talking to my mum about my future, she identified genetic counselling as a possible fit, and connected me with a family friend who practices as a genetic counsellor. Eureka — it was perfect!
How did you hear about genetic counselling?
After an initial meeting with our family friend to hear about genetic counselling, I was given the opportunity to shadow her for a day in clinic, for which I was tremendously grateful! I thought it seemed like a good fit from what I had heard and read, but seeing it in action confirmed for me that this was the career I wanted to pursue.
What attracted you to UBC's two-year Genetic Counselling Program?
I applied to UBC, U of T, and McGill when I was in my fifth year of my undergraduate degree at Queen's University and was thrilled to have the opportunity to interview with all of them. I had actually considered attending UBC for my undergraduate degree and remembered really liking the feel of the university and city, which was reinforced when I attended my UBC interview. I really appreciated the diversity offered by the UBC Genetic Counselling Program in terms of coursework, clinical rotations, and the research opportunities. I was attracted to the opportunity to choose and organize my own summer rotation during the program. I also had a long-standing passion for mental health and my goal at the time was to practice clinically as a psychiatric specialty genetic counsellor, so I asked at the three interviews if there was anyone affiliated with the program that specialized in psychiatric genetic counselling. The opportunity to work with a genetic counsellor specializing in psychiatric illness (Dr. Jehannine Austin) was unique to UBC.
How did you prepare for the application process and interviews?
I was preparing for the application process since I discovered genetic counselling as a career in Grade 12. At that time, I looked at the application requirements for the training programs in Canada and the UK (Manchester and Cardiff), and throughout my undergraduate degree, I kept checking back in on the requirements and ways in which I could meet (and hopefully exceed!) the requirements. When I received the wonderful news that I had been offered interviews, I devoted more energy to reading about current topics in genetics (although I was already doing that for 3rd and 4th year level genetics courses in which I was enrolled), I brainstormed possible interview questions and how I would respond, and I read as much as I could find on genetic counselling specifically. I also tried to get as much information as possible about what to expect from the interviews and tips from current students — I arranged a meeting with a friend who was a current student at the McGill Genetic Counselling program, who I had met at Queen's, and I emailed with a current student at UBC. I am still very grateful for the time they took to respond and meet with me. Lastly, I bought a new suit and shirt to wear to the interviews — it really did help me feel more confident.
What's one piece of advice you would offer to prospective applicants interested in joining UBC's program?
My advice, as a mental health advocate, isn't specific to the UBC Genetic Counselling Program, but to anyone entering any graduate program. I recommend taking time off from school or paid employment (if possible) before starting graduate studies. I personally went straight from high school, to my undergraduate degree, to the UBC Genetic Counselling Program, and then from there to immediately start working as a Research Genetic Counsellor. I actually took a break for six months from paid employment in 2010-2011, and I wish I had done this sooner in my career. The Genetic Counselling program, in particular, is intense and expensive, and there is a great deal of motivation to find paid employment immediately following graduation (for many reasons!), and so if you can take some time off before the program to recharge and do some focused mental health self-care (whatever that means to you), including spending time identifying and developing more self-care strategies, I think this will help set you up for success.
Looking back, what was the biggest highlight from your time in the program?
It's difficult to choose just one highlight, so I am going to share three. One was my experience conducting research with Dr. Jehannine Austin — she has been a fabulous mentor to me ever since. Another was the opportunity to work with Susan Creighton at the UBC Huntington's Disease clinic — I found this incredibly valuable. The last one was meeting my wonderful classmates — we stay in close touch and continue to be supports for one another.
What are you doing now?
In September 2014, I returned to UBC to do my PhD in the Interdisciplinary Studies Graduate Program. I am co-supervised by Dr. Jehannine Austin and Dr. Lynda Balneaves, and my research aims to help women and their clinicians make challenging decisions about treatment for depression during pregnancy. My goal is to develop a personalized approach to treating perinatal depression through a holistic research plan, including conducting interviews with women about antidepressant use during pregnancy and examining genetic differences that might affect how women's bodies metabolize antidepressant medications during pregnancy.
How did UBC's Genetic Counselling Program prepare you for your current role?
First of all, the UBC Genetic Counselling Program connected me with Dr. Austin and supported me to conduct research in the area of perinatal mental health in medical genetics during the program, which prepared me for my current role in a very direct way. In addition to that, however, I would say that the program prepared me (and all the students) with the core skills to be a genetic counsellor, which can be used, and built upon, in a variety of roles. I worked as a Research Genetic Counsellor with Dr. Austin after graduating in 2007, and successfully wrote my genetic counselling certification board exam in 2009. It is a huge challenge for Genetic Counselling programs to prepare their students for the many facets of what it means to be a genetic counsellor, and the many roles that genetic counsellors can perform after graduation, and the UBC Genetic Counselling Program continues to strive to prepare their students with as diverse an experience as possible in the ever-shifting landscape of advances in this exciting field.